Steven Colbert to host late night and face-off with Fallon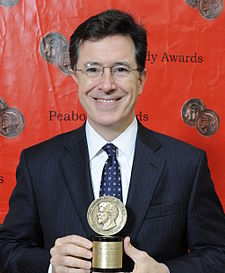 It's official: Stephen Colbert will replace David Letterman as CBS' Late Show host.
The broadcast network has tapped the 49-year-old Comedy Central host to take over the late-night franchise.
CBS has made a five-year deal with Colbert, which was announced Thursday by CBS Corp. CEO Les Moonves and CBS Entertainment chairman Nina Tassler.
"Stephen Colbert is one of the most inventive and respected forces on television," Moonves said. "David Letterman's legacy and accomplishments are an incredible source of pride for all of us here, and today's announcement speaks to our commitment of upholding what he established for CBS in late night. »
- James Hibberd
See full article at EW - Inside TV