Disney' 'Jungle Book' rebook finally gets its lead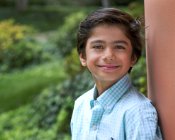 Disney has cast newcomer Neel Sethi as Mowgli in "The Jungle Book."
Jon Favreau is directing the live action film from a script by Justin Marks.
The 10-year-old Sethi, from New York, was chosen from among thousands of kids who auditioned for the role in the U.S., the U.K., New Zealand and Canada.
"The Jungle Book" will be Sethi's first acting role.
"Casting is the most important element of any film and finding the right kid to play Mowgli was imperative," Favreau said in a statement. "Neel has tremendous talent and charisma. There is a lot riding on his little shoulders and I'm confident he can handle it."
Casting director Sarah Finn described Sethi as embodying "the heart, humor, and daring of the character. He's warm and accessible, yet also has an intelligence well beyond his years and impressed us all with his ability to »
- Marc Graser
See full article at Variety - Film News