"The Killing" Final Season finally headed to Netflix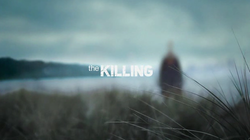 The final season — the real final season this time — of The Killing has a release date.
Netflix will unleash the last season of the murky, rainy crime drama on Aug. 1. The final fourth-season batch is only six episodes, so this is one binge you can easily polish off in a single night.
As we've previously noted, The Killing, which stars Mireille Enos and Joel Kinnaman as Seattle detectives, was AMC's true zombie show — a series that was canceled twice and then revived twice. More details about its improbably resurrection. »
- James Hibberd